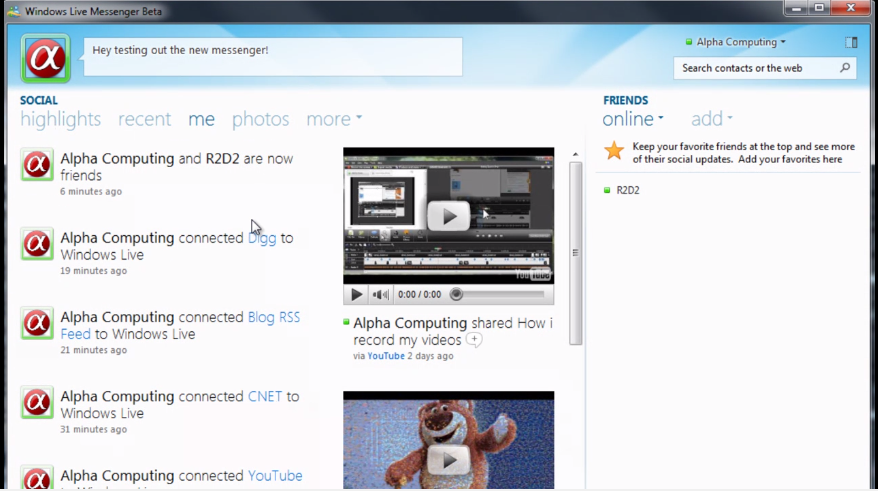 The download is available here for as long as it is in beta and will be available on the official page. Note that the final version of this software may change in the final version.
Messenger.
Messenger got a nice redesign which brings many new social features to the table. It integrates a large number of services you can pick and customize into a single feed, much like[blippr] friend feed[/blippr]. Once you add a account you can easily change your privacy settings for each service from the live.com online interface.
The messenger interface has changed slightly. All the buttons have moved to a single row under the text area. The block button has changed to a "Appear Offline to this Person" which i prefer since it works better for the way i personally block people. There is also an "Always on top" button to keep the window "Always on top". An awesome new feature that comes with the beta is tabbed conversations! I can finally cut down on those millions of what windows i have open and have all my conversations in one window much like a tabbed browser.
The main application has two modes/layouts, you can have the huge feed of all your friends or you can switch to the compact chat only view in the top right. A few of the old features like themes settings have been moved to the drop-down menu. Finally, you can easily enter a preview links before you post them as your status.
sync.
sync is a very cool program. It's completely new to this generation of essentials and has two uses.
First of all it does what it says on the can, it "syncs" you can select folders to sync to your 25gb of Sky Drive cloud storage. This works much like the popular sync program, dropbox. It's also much easier to sync documents and IE bookmarks with the cloud and multiple computers.
The second feature remote desktop connection. You can connect to your computer over th internet and use it just like you where right there. Much like services like TeamViewer or GoToAssist.
httpv://www.youtube.com/watch?v=_Ci46MjpReI
Photo Gallery / Movie Maker.
These two apps haven't changed much they have just got better integration with Facebook, youtube, skydrive and other services. One cool feature Photo Gallery got though is photo tagging just like on Facebook. And the cool thing is when you upload the photo to skydrive or Facebook the tags are preserved.
Mail.
Not much has been done to mail either the only big change is it's much easier to integrate other email accounts like Yahoo! Mail or Gmail.
Writer.
This is one of my favorite apps. Writer allows you to post to your favorite blogging platform (Blogger, Spaces and WordPress!). Has some cool plugin support and a great blog theme fetcher which will automatically set it's self up to look like your blog. And to prove how cool it is, this post was written in live Writer.